Rita H. Khoury, MD1; Vasilios Velmahos, MD2; Asha Gandhi, BS1; BP. Salmon, MS1; Rudy Quiba, BA1; Peter Gudaitis, BA1;Dauna Gudaitis, BA1
1Department of Laboratory, Aculabs, Inc., East Brunswick, New Jersey
2Department of Medicine, New Jersey Infectious Diseases Associates, Edison
(2011) Abstracts and Case Studies From the College of American Pathologists 2011 Annual Meeting (CAP '11). Archives of Pathology & Laboratory Medicine: September 2011, Vol. 135, No. 9, pp. 1102-1230.
Context: Anemia is very common in the geriatric population. The definition of anemia relies heavily on the complete blood cell (CBC) count and specifically hemoglobin and hematocrit, which are affected by several factors: ethnic background, sex, altitude, and physiologic fluctuation of plasma volume. It has been shown that posture can cause change in the results for some blood indices.
Design: The CBC specimens were collected from residents in long-term care facilities early in the morning when the patients were still in bed. Another set of CBC specimens were collected from the same patients in the afternoon. The patients' position was noted, and CBC results were collected using Coulter LH 780 impedance/cell sizing counter (Beckman Coulter, Fullerton, California). Statistic calculations were performed using Statistica (StatSoft, Tulsa, Oklahoma). We considered any P < .05 to be statistically different.
Results: All the samples showed an increase in CBC values between early morning (patient in bed) and afternoon (patient has been moving). The most statistically significant difference was with hemoglobin followed by hematocrit, red blood cells, platelets, and white blood cells.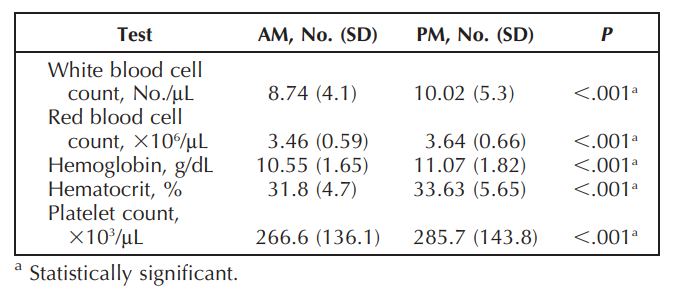 Conclusion: Our results confirm the notion that a change in posture causes changes in some of the blood indices; posture changes the hydrostatic pressure that leads to a change in the movement of fluid between interstitial space and intravascular space and causes physiologic fluctuations in blood volume. Physicians should give more attention to this fact, especially in severely anemic patients, where the difference in posture may alter the hemoglobin result or indicate a need for more aggressive treatment (blood transfusion).